The Importance of Formal Meditation
In this short teaching, Mingyur Rinpoche discusses the importance of formal meditation practice. As he explains, setting aside some time each day to meditate helps us to deepen our practice and strengthens our ability to remain mindful and aware in everyday life. You can discuss this teaching in the Monthly Teachings Forum under the topic The Importance of Formal Meditation.



Reflection Questions
How does formal meditation affect your ability to be mindful in everyday life?

What happens on the days when you don't have time to practice? What about times when you do?

Join the discussion.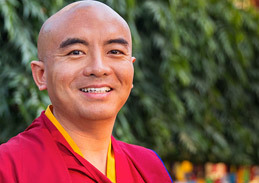 Mingyur Rinpoche's
Monthly Teachings
MRMT1
May 2022

Meditating with Emotions

April 2022

The Difference between Awareness and Mindfulness

March 2022

How to Do Meditation while Working

February 2022

Can Meditation Be Dangerous?

January 2022

How Meditation Helps You Keep Your New Year's Resolutions

December 2021

Bringing Awareness into the Holiday Season

November 2021

How Meditation Changes the Brain

October 2021

How to do Walking Meditation

September 2021

Can Meditation Make You Feel Worse?

August 2021

The Story of Shantideva

July 2021

Compassionate Wisdom

June 2021

Find Your Inner Strength

May 2021

Meditating with Pain

April 2021

Pizza Meditation

March 2021

Understanding the Monkey Mind

February 2021

Befriending Panic

January 2021

The Sense of Self

December 2020

Meditate by Letting Your Mind Be As It Is

November 2020

Meditating in Everyday Life

October 2020

Basic Goodness and Joy: View

September 2020

The Three Wisdoms

August 2020

Basic Goodness and Compassion: View

July 2020

What is Dzogchen?

June 2020

Love for Oneself

May 2020

Love for All Beings

April 2020

Preparing for Death

March 2020

The Four Liberations

February 2020

Meditating with Sleep and Sleepiness

January 2020

Vajra Recitation

December 2019

Meditation Habit

November 2019

Bardo and Nature of Mind

October 2019

Be Natural

September 2019

Recognizing Awareness

August 2019

Pointing Out Your True Nature

July 2019

Development Stage

June 2019

Fruition as Path

May 2019

The View of the Foundational Vehicle

April 2019

The Four Lineages of Tibetan Buddhism

March 2019

Anything as Support

February 2019

Meditation is Easier than You Think

January 2019

Living in a Dream

December 2018

Mind Creates Reality

November 2018

Melting Fixations

October 2018

Healthy Sense of Self

September 2018

Analytical Meditation

August 2018

The Essence of Meditation

July 2018

The Essence of Patience

June 2018

The Essence of Generosity

May 2018

The Causes of Happiness

April 2018

Three Ways of Relating to Emotions: Seeing Their Nature

March 2018

Three Ways of Relating to Emotions: Transforming

February 2018

Three Ways of Relating to Emotions: Abandoning

January 2018

Key Points of Meditation: Everywhere, Anytime

December 2017

Key Points of Meditation: Letting Go of Expectations Part 2

November 2017

Key Points of Meditation: Letting Go of Expectations Part 1

October 2017

Key Points of Meditation: Being vs Doing

September 2017

Key Points of Meditation: Intention and Motivation Part 2

August 2017

Key Points of Meditation: Intention and Motivation Part 1

July 2017

Non-Meditation and Non-Distraction: Application

June 2017

Non-Meditation and Non-Distraction: Meditation

May 2017

Non-Meditation and Non-Distraction: View

April 2017

Going to Sleep

March 2017

Waking Up

February 2017

Discovering Wisdom

January 2017

Basic Goodness and Awareness Part 4

December 2016

Basic Goodness and Awareness Part 3

November 2016

Basic Goodness and Awareness Part 2

October 2016

Basic Goodness and Awareness Part 1

September 2016

Mind and Body Part II

August 2016

Mind and Body Part I

July 2016

Building a Stable Meditation Practice

June 2016

Keeping Meditation Fresh

May 2016

Building New Habits

April 2016

Transforming the Mind

March 2016

The Essence of Meditation

February 2016

World Peace through Inner Peace - Part 2

January 2016

World Peace through Inner Peace - Part 1

December 2015

Awareness

November 2015

Expectations and Appreciation

June 2015

The Four Thoughts - Karma

April 2015

The Four Thoughts - Impermanence

March 2015

The Four Thoughts - Precious Human Birth

February 2015

Meditation without Religion

January 2015

Meditation and an Unpleasant Work Situation

December 2014

Mediation and a Busy Lifestyle

August 2014

The Causes of Anxiety and Suffering

July 2014

The Differences between the Four Tibetan Buddhist Schools

June 2014

Mingyur Rinpoche talks about Nyoshul Khen Rinpoche

May 2014

The Relationship between Study and Practice

April 2014

Mingyur Ripoche's connection with Tai Situ Rinpoche

March 2014

The Life and Teachings of Saljey Rinpoche

February 2014

The Three Practices of Morality, Meditation and Wisdom

January 2014

The Life and Teachings of Tulku Urgyen

December 2013

The Three Kinds of Knowledge

November 2013

What Are the Two Truths?

October 2013

Money from a Spiritual Perspective

September 2013

How to Use Meditation to Deal with Old Trauma

August 2013

What Is Happiness and How to Find It

July 2013

How to Share Your Meditation Experiences

June 2013

Meditation and Dealing with Difficult People

May 2013

The Importance of Formal Meditation

April 2013

Inner and Outer Environments

March 2013

Meditation and Creativity

February 2013

Breaking Mirrors

January 2013

Counting Stones

December 2012

What is a Buddha?

November 2012

Milarepa's Best Friend

October 2012

Moving with Impermanence

September 2012

Homesick for Our True Nature

August 2012

Discovering Buddha Nature

July 2012

The Cause of Happiness

June 2012

Self-Created Suffering

May 2012

Two Kinds of Suffering

April 2012

Getting to Know Suffering

March 2012

Two Kinds of Awareness

February 2012

The Importance of Retreat

January 2012

Retreat in Daily Life

December 2011

Introducing Sherab Ling

November 2011

The Importance of Community