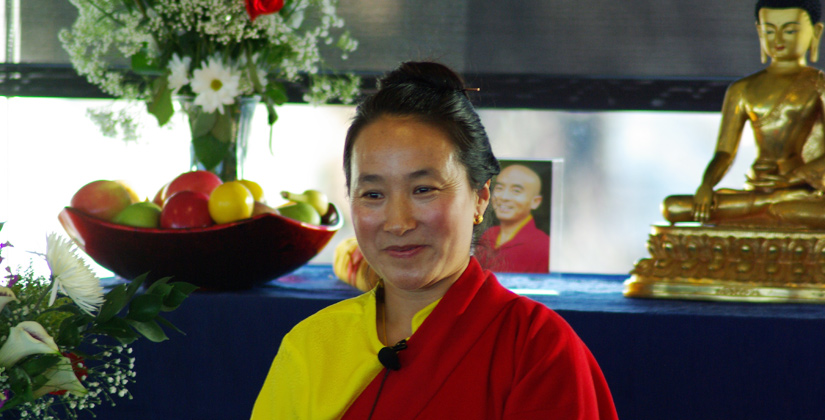 ---
In November, Tergar Meditation Community of Minneapolis/Saint Paul hosted an afternoon with Tibetan oracle Khandro Tseringma. It was the first time Khandro Tseringma taught in the United States, and hopefully there will be many more times to come. Khandro Tseringma is arguably one of the most highly revered female Tibetan Buddhist practitioners in the world. Although she received little formal education or training, several years ago she was recognized by His Holiness the Dalai Lama as a realized practitioner and asked to serve an important role within his monastery.
The event in Saint Paul, Minnesota was held in a conference room at a local university, with nearly two hundred people in attendance. Khandro Tseringma began with, "I don't really know how to give a talk," and proceeded to give an eloquent and clear explanation on a wide variety of topics related to practice for over three hours, without any notes.
There were three key words that stuck out from her talk: kindness, honesty and intelligence. With regard to kindness, she spoke about the importance of developing the genuine motivation to help others, and how this is ultimately the best way to help ourselves too. With regard to honesty, she mostly spoke about not deceiving ourselves, and being willing to look carefully at our actions and thoughts. This was related to the third point, which was the importance of using our intelligence to examine carefully how things are with ourselves and the world around us. As an example, she said that it may feel nice to relax and space out, but then our meditation is no different than that of a pigeon. It is honesty and intelligence, being willing to examine what is happening in our minds and in our world, that truly helps us to transform and see things clearly. She spoke about a number of other topics as well and did Q&A with the audience.
Finally, I would say that even more than what she said, I was struck by her presence, which I can best describe as the embodiment of kindness, humility and confidence. As the afternoon went on, I could feel my whole body relaxing just from being around her, and it taught me that quality of being kind is probably one of the greatest gifts we can offer to others. After talking to several other people who attended I know I wasn't the only one who was moved, and I sincerely hope she comes back to teach our Tergar community again soon.
---
Audio recording of Khandro Tseringma's Talk

MP3 Download
---
Ani Gangtso, a member of Tergar Meditation Community of Madison, contributed this article. Photo contributed by John Tribbett of Tergar Minneapolis/Saint Paul
---