Though the preliminary practices are presented as introductory meditations in the world of Tibetan Buddhism, they are so complex that it sometimes seems like we need a PhD in Buddhism just to get started. Fortunately, these practices, known in Tibet as ngöndro, are more than worth the effort. Here is a list of books that will help you find your way if you're just beginning, and inspire your practice if you're an old pro.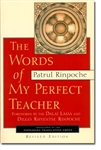 Words of My Perfect Teacher
by Patrül Rinpoche
If you're looking for a classic work on the subject, look no further. This is a masterpiece of Buddhist literature. Keep in mind that this was written for a very different audience, so some of the stories and perspectives may seem out of touch with the modern world, but if you can get past some of the more traditional elements of this book, you'll find a treasury of wisdom and practical advice on the preliminaries. This book is essential reading for all ngöndro practitioners
---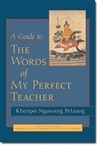 A Guide to The Words of My Perfect Teacher
by Khenpo Ngawang Pelzang
Khenpo Ngawang Pelzang, one of the greatest Tibetan masters of the early 20th century, was the heart student of Lungtok Tenpé Nyima, the Dharma heir of Patrül Rinpoche. When Khenpo Ngawang studied Words of My Perfect Teacher, Khenpo Ngawang recorded his teacher's explanations and compiled them in this work. This book expands upon Patrül Rinpoche's teachings, offering practical advice on the preliminary practices and profound explanations of core Buddhist teachings. Another must read for all ngöndro practitioners.
---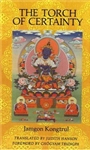 The Torch of Certainty
by Jamgön Kongtrül
Kongtrül's Torch of Certainty is short, but if you're looking for a good overview of the preliminary practices, especially as presented in the Karma Kagyü lineage, then this book is invaluable. In addition to Kongtrül's presentation, Judith Hanson (who translated the text) also included some wonderful interviews with Kalu Rinpoche, Deshung Rinpoche, and Chogyam Trungpa Rinpoche.
---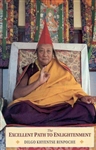 The Excellent Path to Enlightenment
by Dilgo Khyentsé Rinpoche
Khyentsé Rinpoche, guru to the Dalai Lama and many other important lamas teaching today, was a towering figure in 20th century Buddhism. This short text, an edited transcript of his teachings on a concise form of the Nyingma preliminary practices, contains wonderful teachings on the topic. If you haven't had the pleasure of reading Khyentsé Rinpoche's teachings before, this book is a great place to start.
---

Entrance to the Great Perfection
by Jigmé Linga, Dzongsar Khyentsé, et al.
This collection of texts includes two short teachings by Jigmé Lingpa that were the basis for Patrül Rinpoche's Words of My Perfect Teacher (mentioned above), as well as a lengthy commentary on the preliminary practices by contemporary Buddhist teacher Dzongsar Khyentsé Rinpoche. The book also includes a long introduction that presents an overview of the Nyingma lineage and other sections on the nine yanas and other topics.
---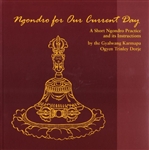 Ngondro for Our Current Day
by the Seventeenth Karmapa, Ogyen Trinley Dorje
This short book pertains to an abbreviated form of the preliminary practices composed by the Seventeenth Karmapa, Ogyen Trinley Dorje, one of the great living masters of the Buddhist tradition. His teachings provide many useful instructions on the practice of ngöndro.


---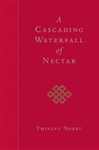 A Cascading Waterfall of Nectar
by Thinley Norbu
Thinley Norbu Rinpoche, son of the late Dudjom Rinpoche, stays out of the limelight, but he is one of the most respected living masters of the Tibetan Buddhist tradition. In this book, he offers a unique perspective on the preliminary practices. His teachings manage to be both traditional yet completely fresh. In addition to providing a wealth of details about the preliminaries, this book is sure to get you thinking about the deeper meaning of these practices
Other books to consider
Dzogchen: Innermost Essence Preliminary Practice by Tulku Thondup
Great Perfection: The Outer and Inner Preliminaries by the Third Dzogchen Rinpoche
Guru Yoga by Dilgo Khyentse Rinpoche
Ngondro Commentary by Jane Tromge
Wish-Fulfilling Jewel by Dilgo Khyentse Rinpoche
Turning Confusing into Clarity by Yongey Mingyur Rinpoche